We already know that we have a pretty unique offering in John Lewis, so we decided to take a break from the hard life of scented adventures and Edible Cocktails at our concession in the Oxford Street Store, to take a look around at what else is on offer this Christmas.
Here is our round up of the strangest (but also very fun) things you can buy as a gift in John Lewis this year.
‍
NO.1: HAPPY SOCKS X WHISKY COCKTAILS
‍
Having cold feet about your dad's christmas present? Worry no more.
For that person who can't think of anything but socks to gift to a male - John Lewis provides the perfect solution.
Happy Socks, are a fun alternative to your average sock. The Sock game here is anything but weak, with John Lewis even displaying them on the shop floor to look like a very cosy looking Christmas Tree.
Boldly patterned and beautifully packaged, these socks pair wonderfully (terrible pun alert) with our Whisky Selection. As the quote goes 'everything about a whisky drinker screams sex appeal' (we made that up). What is more sexy than a man in a pair of Happy Socks indulging in a Whisky Edible Cocktail by the fire?
I'll wait.
PRICE: £7.96 for one pair (with the John Lewis price match!).
‍
NO. 2 EXTREME DOT TO DOT BOOK X GIN COCKTAILS
‍
‍
Nothing says extreme sports and pushing the boundaries like a good ol' dot to dot. Now, most people like to kick back and relax over the festive period but for you adrenaline junkies and real go getters, this Extreme Dot to Dot book by Patricia Moffett is sure to challenge your eye and keep you occupied through endless rounds of The Grinch and left over Bounties (we've agreed they're the worst of the bunch) in the everlasting celebration boxes.
Keep your mind busy, and use the excuse "I'm concentrating" as much as you like when being asked by Aunt Sandra why you're still single with this bad boy.
We recommend a G&T for this one.
PRICE: £9.99
‍
NO.3 RIDLEY'S BALLOON MODELLING KIT X VODKA COCKTAILS
‍
Consider yourself an entertainer? Looking to impress your other half's parents? Then this is the gift for you. Rock up to any family affair this party season and become an instant crowd pleaser.
Here at S&S we're all for adult play, whip up a poodle, snake or rabbit (whatever your heart desires) to really get the party started and release the inner child that's dying to come out and play.
Plus side: entertaining children too? This one is sure to please everyone at the table (but not the Vodka Cocktails- these are strictly for the adults at the table).
PRICE: £10.00
‍
NO.4 BEAN BOOZLED CHALLENGE X RUM COCKTAILS
‍
‍
If you've opted for some of our Edible Cocktails before, then we know that you've got a bold palette and a taste for adventure. With that said, the Bean Boozled Challenge is sure to tickle your taste buds in a way you might not expect.
With flavours ranging from vomit and rotten egg to tutti-frutti and chocolate pudding, the flavours in this selection are sure to spark a reaction different than that of our Rum Selection.
We recommend using our pastilles to pacify what could be a nasty surprise.
Top tip: For the jelly beans, chew whole. For the pastilles, two bites.
PRICE: £25.00
‍
NO.5 OPPOSUITS X MIXED COCKTAILS
‍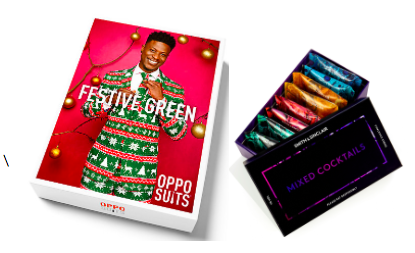 HellooOooOo, it's Fashion, look it up.
Break Christmas tradition and push boundaries from your get-up to your gifts.
If any one questions your choices, remember to hit them with the fact it's the 21st century, these suits were made for you to be different, and just like our Edibles, you've got to mix it up sometimes, right?
PRICE: £65.00